Containers podem facilmente serem transformados em dormitórios para estudantes. Em amsterdam, 1000 alunos vão aproveitar unidades completas com banheiros particulares, cozinha e internet banda larga.
Em Amsterdam os containers são muito usados pelas cominudades a muito tempo. E se você tiver um projeto parecido, entre em contato com o GrupoIRS.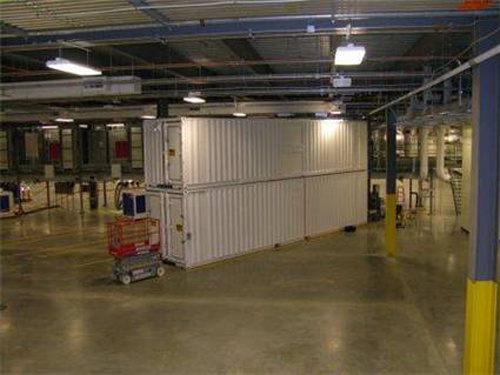 A Microsoft está usando 112 containers no seu novo data center em Chicago. O data center teve um custo aproximado de U$500 milhões, sendo que cada container possui 2mil servidores instalados, o total de servidores é de 224mil.
O mais incrivel é que só foram necessários 4 funcionários para instalar os 112 containers com os seus respectivos servidores, incrivel não? O GrupoIRS também faz esses projetos, entre em contato com agente para saber mais.
Um novo método de conversão de containers começou na provincia de Rhode Island, usando 32 containers reciclados para fazer 12 escritórios e estudios. Chamado de "Box Office" projeto totalmente auto-sustentavel, usa 25% a menos de energia que consumiria uma estrutura semelhante padrão.
O Projeto foi inspirado em várias partes dos estados unidos, que usam containers para este tipo de estrutura, sendo muito economico. Principios verdes foram aplicados no projeto inteiro. Portas e janelas de alta performance dão iluminação, energia limpa alem de prover uma circulação boa de ar e reduzir custos com ar condicionados.
Bombas de calor garatem um consumo extremamente reduzido. Talvez um dos melhores fatos sobre isso.
Estes projetos de alto nivel, autamente sustentaveis, estão cada vez mais comuns, se você quiser algo parecido entre em contato com agente agora mesmo.
Um mecanismo especial dentro de um container modificado especialmente para produzir ondas, para todos os tipos de surfistas – iniciante ou grandes ondas. Com vários dispositivos, fazem com que tudo seja estramamente seguro. O fato é que ele pode ser fácilmente transportado.
Se você quiser um projeto igual, entre em contato.
O Hotel em Uxbridge foi aberto no dia 15 de agosto. Ele bateu o recorde de tempo e custo, que foi de 75% a menos do que uma contrução tradicional.
The difference? It was put together from purpose made modular shipping containers which were shipped over from Shenzen in China to England, and then fitted together in a framework to form the hotel.
Shipping Containers are ideal for conversion into living space and the fact that they are easily transportable means that they create the minimum of disturbance to the existing infrastructure. But do we have to have containers especially made and shipped over from China when there are tens of thousands of good quality used shipping containers already in England just waiting to be converted?
Modern methods of insulation, ventilation and finishes mean that many options are now available to make the most out of the existing cargo containers we have in Britain. Surely this something we could be capitalising on in preparation for the Olympics where we will need additional accommodation quickly and cheaply?
But why wait until then? What about the nurses, doctors, firemen, policemen and teachers who all need affordable accommodation that is close to where they work? Wouldn't accommodation made from shipping containers provide an affordable solution?
North Sea Oil Rigs had been using shipping containers for offshore accommodation for sometime when, shortly after the Falklands War, the British Army decided to rent what became known as the Coastel.  This in effect comprised of shipping containers that had been installed onto barges to provide floating accommodation – in this case in Stanley Harbour.
But there have been other examples of how shipping containers – or iso containers as they are known in the Army – have been used in the operational field.  In the Gulf War when the Allied Forces arrived in Saudi Arabia accommodation was very limited.  In fact the only shelter available was in warehouse and the shipping containers that were already in the port.  The 20ft and 40ft containers were quickly put to use as secure containers to store arms and ammunition as well as stores.  Many were converted into temporary offices and living quarters.
In Bosnia and Kosovo shipping container conversions were delivered as living accommodation, bedrooms and bathrooms to nearly all the camps.  The US Army uses similar conversions throughout Iraq today and the Australian Army even has Medical Operating Theatres in shipping containers which they move to wherever they are needed.
Who says that shipping containers don't get everywhere?
How on earth can a shipping container be of use at any of the many festivals going on in the UK this Summer?  Perhaps unsurprisingly, it is the fact that shipping containers are so easily transportable and adaptable, which has meant that they have been used in a variety of different ways from Glastonbury to the Game Fair.
Perhaps the most obvious way in which they are used is in the form of refrigerated shipping containers.   The fact that goods, such as drinks or food can be kept in the temperature controlled environment of a refrigerated container which can be run either from a generator or connected to an electricity supply means that they are in great demand.   They are available for hire or for purchase.
Shipping Container Conversions such as those use to house cashpoints are also extremely popular.  As well as containers converted into stands or bars.  The coffee shop here is taken round the various festivals in Italy, although there are plans to build some in the UK.
Shipping Container Coffee Shop opening
Shipping container coffee shop closed
But of course, the most common use is as storage containers.   Keeping stock secure yet easily accessible  is vital both when travelling or when the stand at the festival is set up when the container becomes a store room.
These are just some of the ways in which you might see a shipping container used should you visit a Festival this year.   Let us know if you see any more – and send us a photograph!
There has been a rise in the number of people that use shipping containers to make houses and other community buildings.   Architects have started designing more projects that rely on shipping container conversions for prestigious sites.
But why should you choose a shipping container as the basis for your building?
Shipping Containers are readily available with over a million being released by shipping lines each year
They are ecologically friendly – you would be giving something that is essentially an industrial waste product a new lease of life
Shipping containers are weather resistant being made out of corten steel and having water resistant seams and 27mm marine plywood floors
They can be quickly assembled on site
20ft and 40ft shipping containers can be combined to make larger units quickly and easily
They are structurally very strong – shipping containers are used to support concrete bridges in states such as Utah
Shipping Container conversions can used other recycled materials such as windows and doors
The containers have a good fire resistance rating
The fact that containers are designed for transportation means that they are easy to get onto most sites
On average a shipping container home is 20-50% cheaper than a conventional construction project
In our next post we will look at some shipping container building projects to see just how well containers can be converted and how visually appealing they can be.
Schools often have  a tight budget and shipping containers can prove to be an economic solution.  The fact that shipping containers are made from strong, weather resistant corten steel make them ideal for a number of purposes.   Add to this that they are by their very construction extremely strong and secure, as well as easily transportable they are ideally suited for the school environment.
The eight most popular uses for shipping containers in Schools are:-
Providing additional storage for items such as chairs, sports equipment etc in all sizes from 10ft to 40ft
Shipping Container Conversions can make great classrooms at about a third of the cost of traditional buiding methods
Changing rooms can be made from 20ft containers and sited next to the sports field
Cycle stores made from used containers
Insulated shipping containers are often used to house musical instruments and additional computer equipment
Recycling/rubbish collection areas
After school clubs/common rooms can be made as a shipping container conversion and are frequently sited in the school car parking area
Chemical stores made from 10ft shipping containers
There are, of course, special considerations to be taken into account when buying and siting a shipping container in school grounds.   Not least of these is the need for health and safety which is why it is often worth asking the supplier of the container to deliver it at a time to suit the school timetable.   Most will be able to offer time slots early in the morning before the students arrive or whilst lessons are going on.
20ft shipping container conversion
SHIPPING CONTAINERS ARE USED AS CLASSROOMS IN AFRICA
CS Shipping Containers are supplying Computers 4 Africa with shipping containers that can be converted into classrooms equipped with computers to give IT skills to people in Africa.  Sharon Roberts from Computers 4 Africa said "We are delighted to have this opportunity to be working with CS Shipping Containers".
CLASSROOM IN A CONTAINER
A major fund-raising campaign has seen over 18 shipping containers being delivered in the last fortnight to the Computers 4 Africa bases in Sheffield and Scotland where they will be converted into classrooms. The second hand shipping containers are a mixture of 20ft and 40ft sizes and will have desks fitted with donated computers, laptops and IT equipment.   The corten steel construction of a shipping container means that they are ideal for classrooms as they are strong and secure as well as weatherproof – and, of course, shipping containers can be cheaply shipped and easily transported on by road.
Shippng Containers Housing Computers 4 Africa
Europe has one of the highest ratio of computers to people in the world and over 93% of UK businesses and nearly all households use pc's or laptops – as opposed to places such as Tanzania where only 6% of the population have access to computers.  With the need for constant updating many computers become redundant each year.   Computers 4 Africa recycle and send out computers that are no longer needed in Europe and use them to teach IT skills enabling them to get jobs at several times more than the local average pay.
As the fund-raising drive continues Computers 4 Africa will fit out more shipping containers as classrooms in the various regional centres and send them over where they are needed in Africa.
COMPUTERS 4 AFRICA
If you can help by either donation an unwanted PC or IT equipment, Computers 4 Africa will data-wipe and clean them up and send them to Africa where they will transform lives!   They ask that the computers are working and less than 5 years old as they need to have a useful service life once they reach their destination.   Check out the website for more information – including details of sponsorship packages – and in particular 'Classroom in a Container'
www.computers4africa.org.uk
or call them on 0845 200 8510 if you think you can help.